Well I secretly snuck away to Vegas this past weekend with some friends. It was soo last minute and probably the most spontaneous thing I have ever done, but it was such a BLAST. It was my first time, so I was way overwhelmed with all of the sights! We spent one day at the Bellagio spa which was just incredible and just what I needed after a crappy week. We did some gambling and lots of walking around. I was amazed at all of the casino and resorts there. They are all so elaborate and wonderful. It makes me think of cruise ships on steroids. Ha!
We also tried out Serendipity 3 (same as the one in NYC)!!!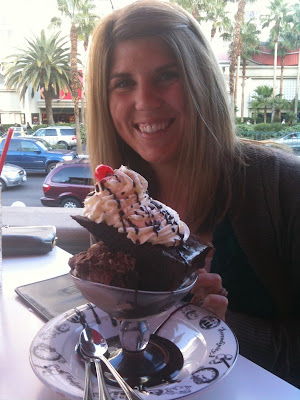 It was super yummy!
We also went to the Cirque de Soleil
Love
show. It was awesome and plus I love me some Beatles music!
Sorry, I have no really great pics, because I definitely forgot my camera in the midst of my lack of planning for this trip. Oh well, I always have the images in my head!
On a different note...
Sorry I've been a little MIA in the blog world. I have just felt a little un-inspired lately. I have lots of posts that I write in my head but I just never sit down and take the time to do them, nor am I brave enough to actually post them on here. I hope to start writing about it soon though. Thanks for sticking with me all you faithful blog readers.