I know this is a week late, but I did want to document what we did for our 6 yr anniversary.
We ended up going to my parents lakehouse for the weekend. We were going to go have a nice dinner before, but I had a horrible head cold so we decided to go the next week.
We had a yummy dinner at our favorite restaurant in Fayetteville which is Theos!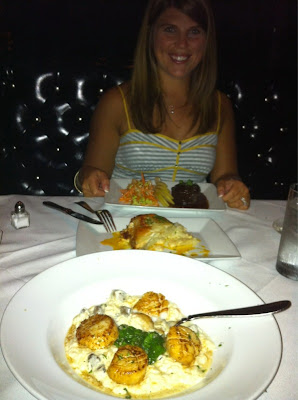 It is the best, fancy food ever. If you know me, you know I love me some yummy, fancy food!
Our time at the lake was great, although I was still very congested and did not feel that great, we did still have a great time.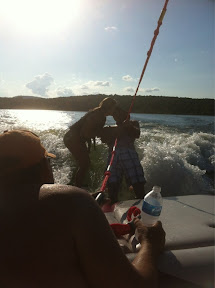 Aww look how romantic. Marc leaned back on the back of the boat to kiss me while I was surfing. We also attempted to surf together, which resulted in a fail. ha.
It was probably our last lake trip of the summer and we wanted to make sure and get one more trip in! I'm so glad we did, I just love it there.
We mainly considered our NYC trip our big anniversary present to each other, which it was wonderful and I'm so grateful we were able to go.
All in all it was a great anniversary!