If you aren't certain what a sussy is, it is another name for a surprise. Thanks to our friends, Lauren and Stuart, they got us saying that word several years ago and it has just stuck.
I absolutely love sussies!
It all started early in the week when I received this book in the mail from my sweet friend
Chelsea
. She said this book really ministered to her while going through a miscarriage and that it blessed her by reading it. I can't wait to read it. Thanks Chelsea for blessing me.
Then Marc bought me a gift card for a massage from
NWA deal Piggy
. Nwa deal piggy is like the Living Social website. You can get great deals in the area for less. My back has been bothering me quite a bit, so I can't wait to use this.
He also got me this super cute clutch from a local coffee shop called Mama Carmens. A girl that Marc used to work with started an awesome company in India called JOYN. You can check it out here:
http://joynindia.com/about/
. You can find some of the products in a couple of stores around NWA at Mama Carmens and
Mustache
.
I love it! It was perfect for the Razorback game!

We ended up getting tickets right before the game and it was such a blast. There is just something about going to that first game of the season! It's kind of like Christmas morning. We loved it.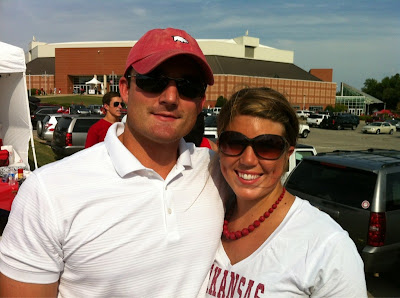 WOO PIG SOOIE!
Well it was a great week of sussies! If you know me, you know I really love gifts! Thank you to my sweet husband for going above and beyond to make me feel special this week.
Happy Labor Day!