Recently Marc and I have been doing some
Crossfit
. We both joined
Crossfit 71
a few weeks ago and it has been so fun working out together again which is something we used to do a lot in College. I started it back in September (with a few months off here and there) and it has helped my back tremendously. I feel so much stronger and have way more energy. If I could just diet, then maybe I could get some of my weight off...
If you live in NWA, you should definitely check it out. Crossfit 71 is a new gym that just opened a couple of months ago and the people that opened it are super nice, plus your first week is free!
Here is Marc about to do some ring dips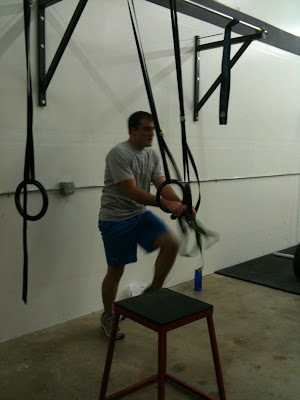 The other night we were at
The Henry's
and Sawyer saw Marc doing a burpee (a crossfit term and move) It is basically a pushup and then you jump afterwards. So Sawyer decided to try one out all on his own I might add. It wasn't prompted at all which makes it even more hilarious!
This next video I was trying to get him to say our names. If you listen carefully, you can hear him say "Mawc" and "Up, Aunt Chelle." He is semi-obsessed with me, really not sure why but I love it. He is so sweet and loves on me all the time. It melts my heart and always makes my day. I'm sure he won't love me this much forever so I'm soaking it up while I can! I have always loved him like my own, maybe because he was the first born out of all of our friends kids!
Anyways, please watch this, he is precious.
I wish I would have asked him his name on the video, because he calls himself "saucy." Hilarious!
Thanks for making a precious kid Katie!